OUR BELL TOLLS IN SOLIDARITY
Christ Church's steeple bell will ring out on Monday, Wednesday and Friday at 7 p.m. and Sunday morning at 10:30 to voice our parish's solidarity with all humanity during the coronavirus crisis.
The bell will ring in the evening as soon as the town clock at First Presbyterian chimes the hour in solidarity with people in other communities and on Sunday to mark the time we would normally gather to worship.
Each of those days we will post a specific focus for that day and invite and encourage you to pause and join us. If you are able, go outside and ring a bell, bang a pot, clap, do anything to join us in making sounds as you join us in prayer and reflection.
We will livestream this prayerful sound  on Facebook so that those not in Hudson can join us in honoring  those in the medical field, caregivers, first responders and other essential workers.
We will continue to livestream our Sunday services at 9 a.m. The services will appear on Facebook and—soon—on our parish website.
Be safe everyone. Stay apart so we can all be together again. And remember that I will be posting on Monday, Wednesday Friday and Saturday (for Sunday) information on who we are praying for on that particular day.—Jamison Teale, sub-deacon
—————
RISING TO TECHNICAL CHALLENGES
Here is how members of Trinity Episcopal in Morrisania are rising to the many technical challenges of nurturing parish life online.
————
REIMAGINING MAINLINE CHRISTIANITY
Here is one church's epiphany as it struggles, like so many other churches, to fill its pews.
—————
A VIRAL OPPORTUNITY
Here are imaginative digital ideas for responses to the coronavirus crisis by religious institutions.
——————
CHURCHES BANKING ON LOANS
Some churches are counting on federal relief loans to survive the coronavirus crisis. But there are serious separation of church and state issues.
————
ANGLICAN CONFERENCE POSTPONED
The Anglican Bishops' Conference has been postponed in response to coronavirus concerns.
—————
OF THEOLOGY AND CORONAVIRUS
Presiding Bishop Michael B. Curry shares this meditation on theology in a time of plague, recalling the words of the poet-priest John Donne.
———————
POEM ABOUT LOCKDOWN IN IRELAND
An Irish priest has written this moving poem about lockdown during the time of The coronavirus.
——————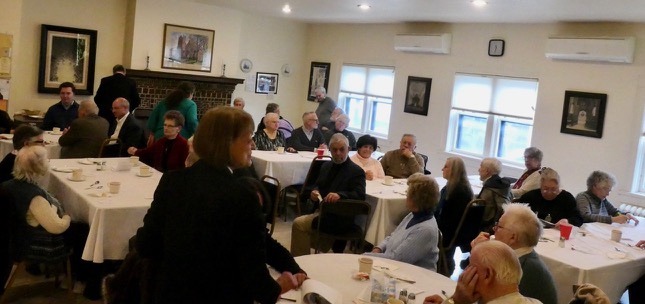 Five elected to vestry
Five vestry members were elected unanimously: Phillip Schwartz, senior warden, for another two-year term; vestry members David Palmquist and Susanna Grannis for their second three-year term; Jamison Teale for a three-year term, and Marilyn Marbrook (appointed in 2019 to fill a vacancy) for a two-year term.
Copies of the annual budget and activities reports are available in the church office.